Aceso Virtual Care™
Virtual Care technology has become a common tool to drive staff efficiency, and has become a generally accepted form of convenient and safe care delivery.
Aceso's Virtual Care Module harness the power of your existing virtual care technology and creates a platform that integrates existing telemedicine (bi-directional video and audio) systems with the in-room television and a patient's own mobile device to allow for seamless video communication without the need for mobile carts. From virtual consultations to scheduling appointments, care providers can continue to deliver the exceptional care that patients deserve while taking advantage of available efficiencies and avoiding the risks associated with direct contact, such as the spread of infectious disease and shortages of personal protective equipment.
Virtual Care Use Cases

(including but not limited to):
Virtual Care Benefits
Minimize potential exposure time to infectious diseases to reduce chance of spread

Leverage resources in both inpatient and outpatient facilities to maximize total care touchpoints

Allow providers to continue practicing while in isolation

Alleviate provider burn-out by extending flexibility and care management remotely

Adheres to the security and privacy policies enforced by your health system
Virtual Care Advantages
Eliminates the need to maintain and disinfect a wheel-in cart so providers can spend more time on treatment and communication

Integration with the in-room patient television provides a seamless all-in-one solution for delivering care without disrupting the patient experience

Modular solution can be standalone or bundled into Aceso's UpCare integrated patient room solution

Reduces the demand for personal protective equipment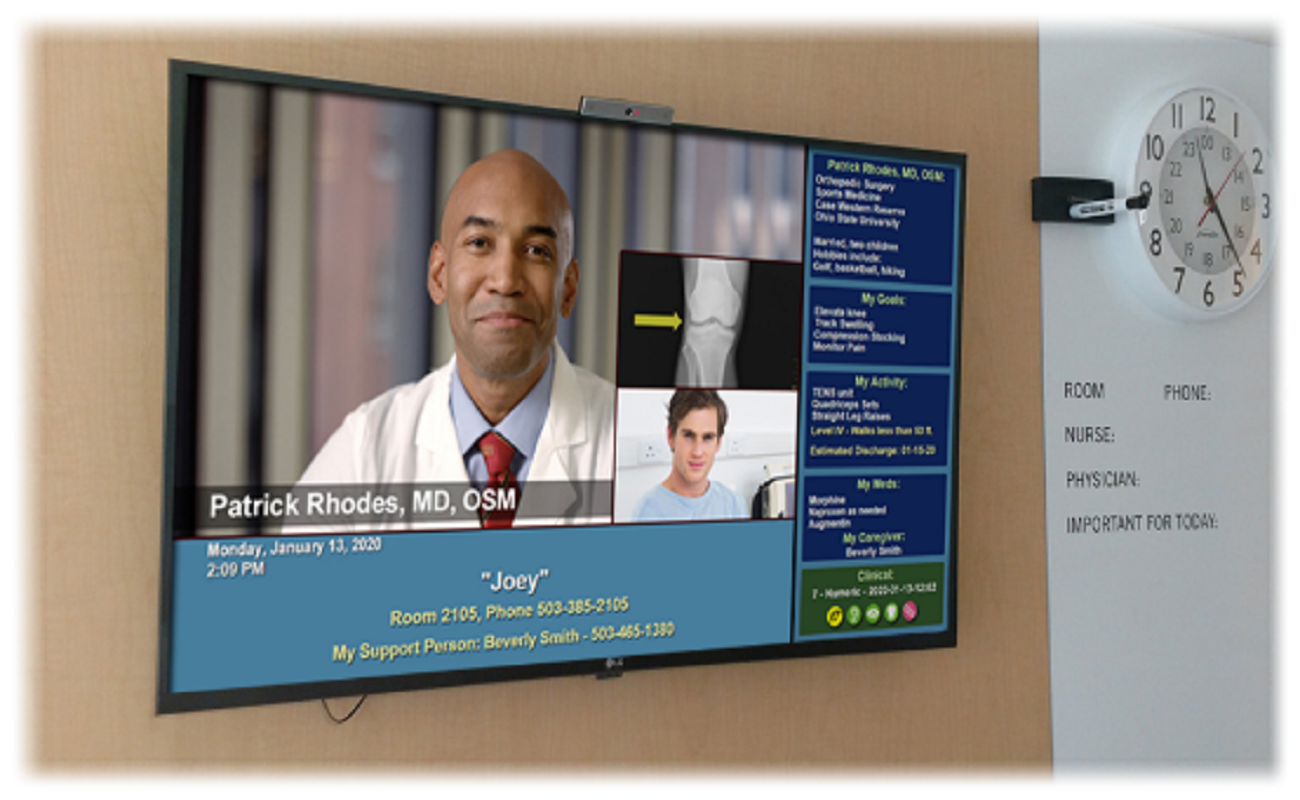 MD Consult and Physician Rounding
Aceso Virtual Care allows bi-directional initiation of non-diagnostic consultations between patient and physician. Physicians can initiate a virtual consult with the patient to discuss test results and treatment plans, and/or patients can notify clinicians that they would like a virtual consult by sending a REQUEST through the system.
Nurse Communication
In addition to nurse call systems, Aceso Virtual Care enables care team members to communicate via video with patients. Our system is interoperable with nursing staff and other critical care team workflows for efficient communication without having to enter the patient room.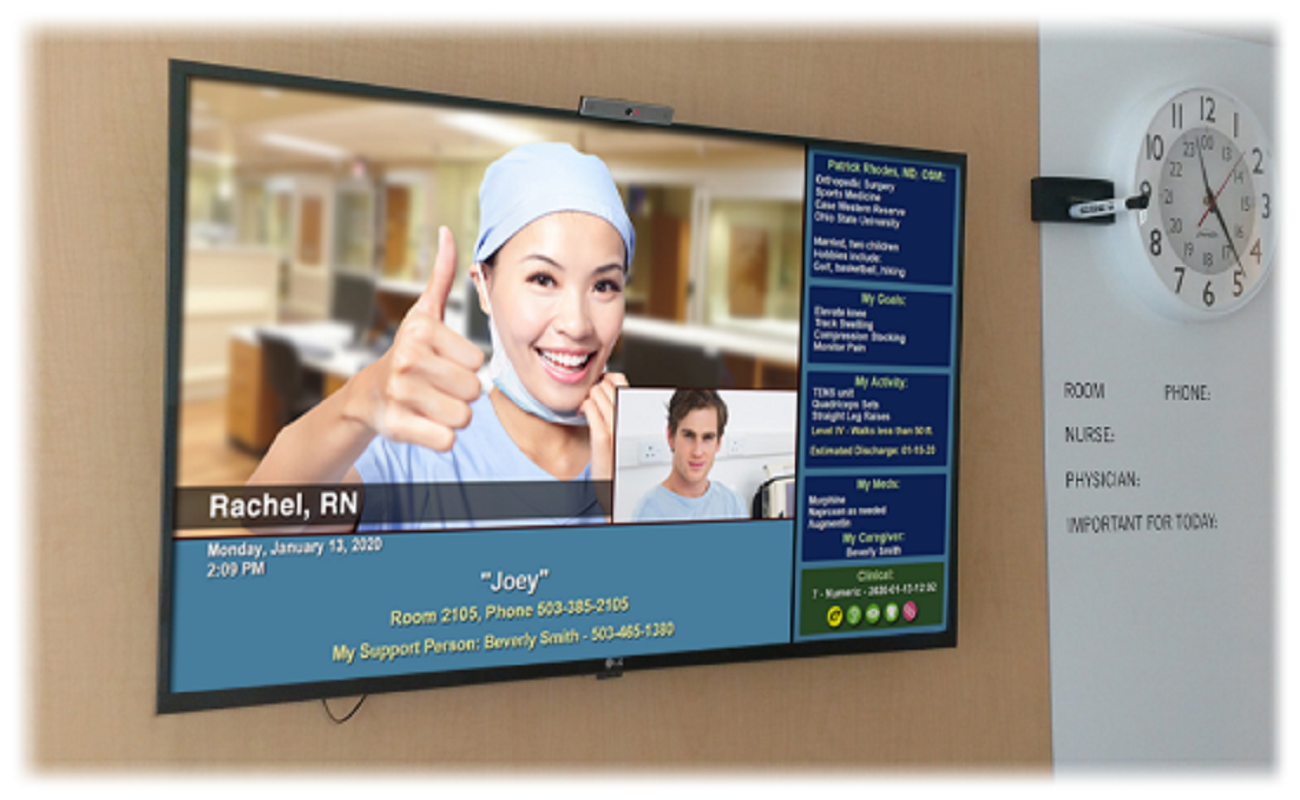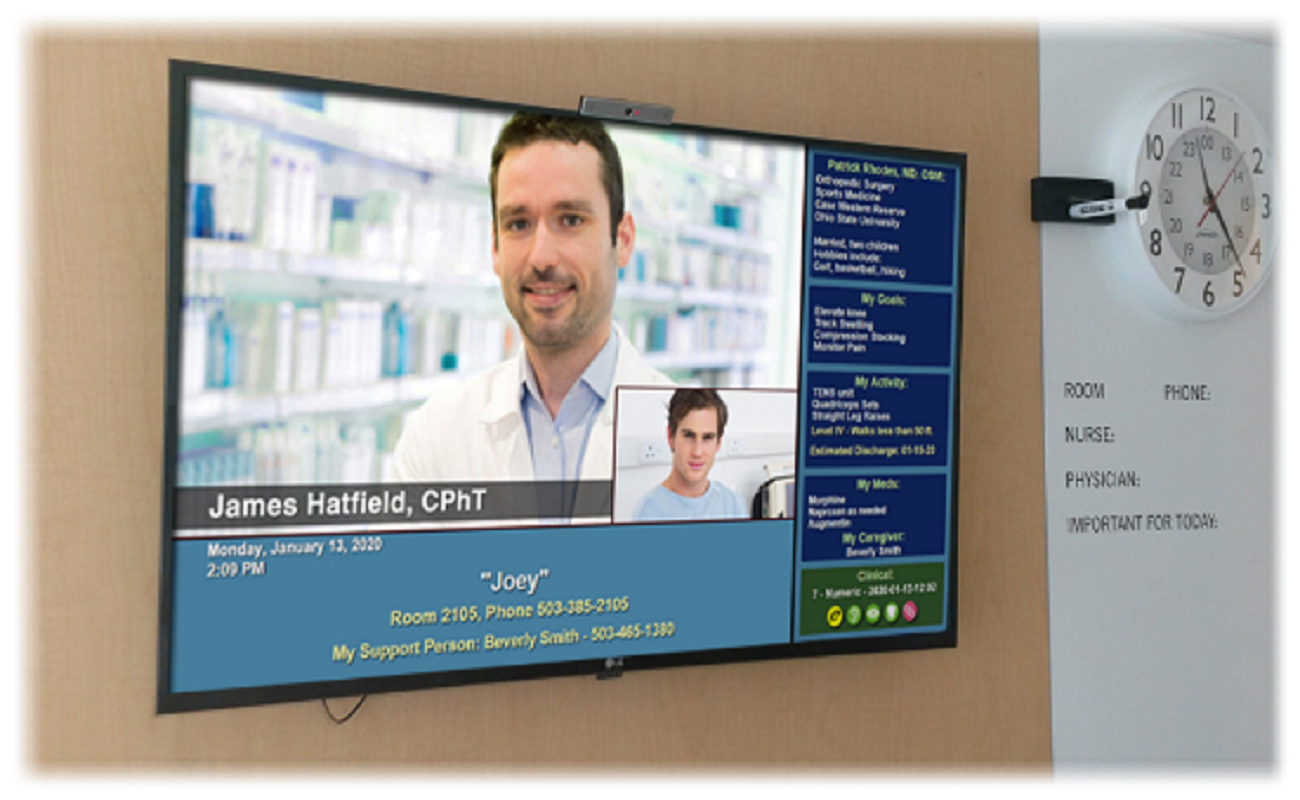 Ancillary Services
Hospital staff that typically enter the patient room to provide important services can also utilize Aceso Virtual Care for direct communication with patients. Examples of staff who can initiate virtual calls include but are not limited to: Dietary, Pharmacist, Case Management/Social Work, Spiritual Caregivers, Event/Activity Planners, Virtual Education and Classes.
Discharge, Concierge, Environmental and Financial Services
Providers can now optimize the discharge process using video communication to ensure patients and family members understand what is necessary for a healthy recovery once they leave the hospital. Environmental services can use this technology to communicate directly with patients or guests about adjusting the room temperature or if the room needs to be cleaned. Patients can speak with a hospital concierge to schedule follow up appointments or transportation.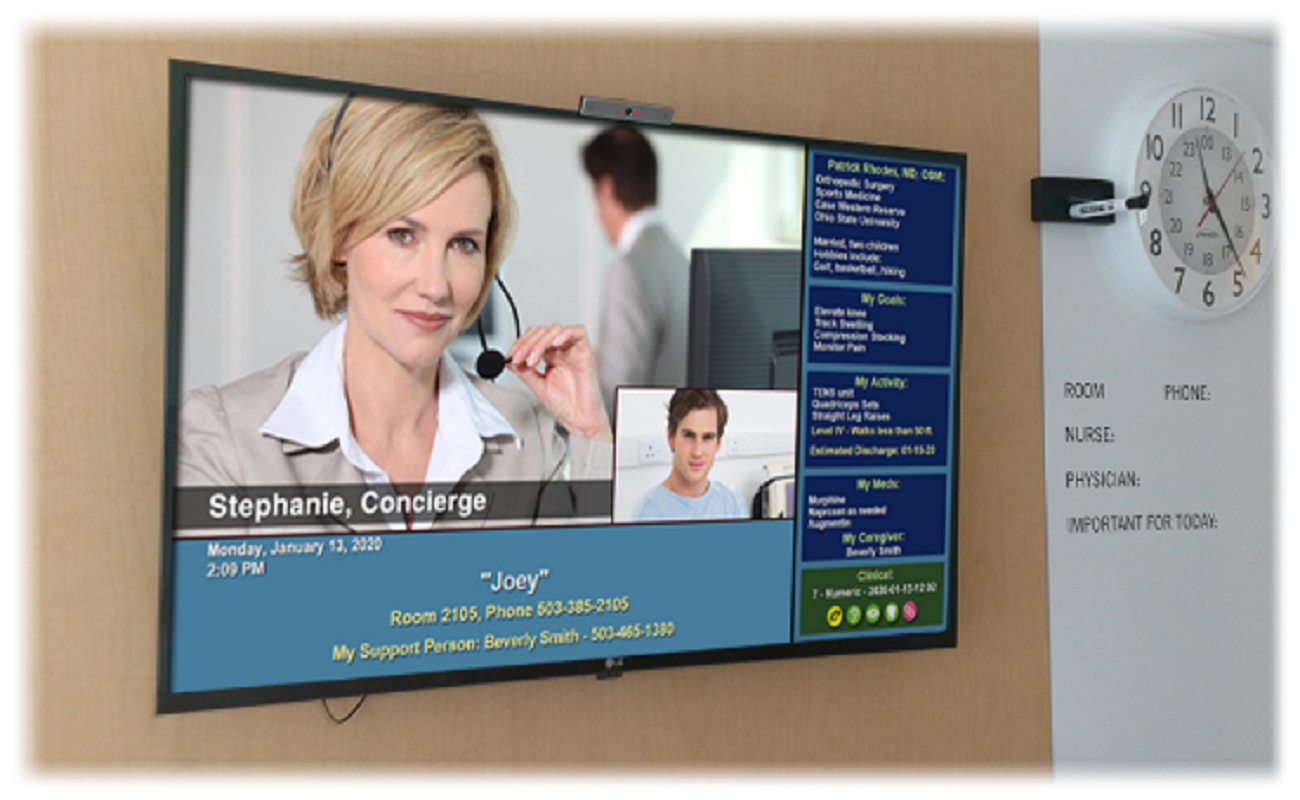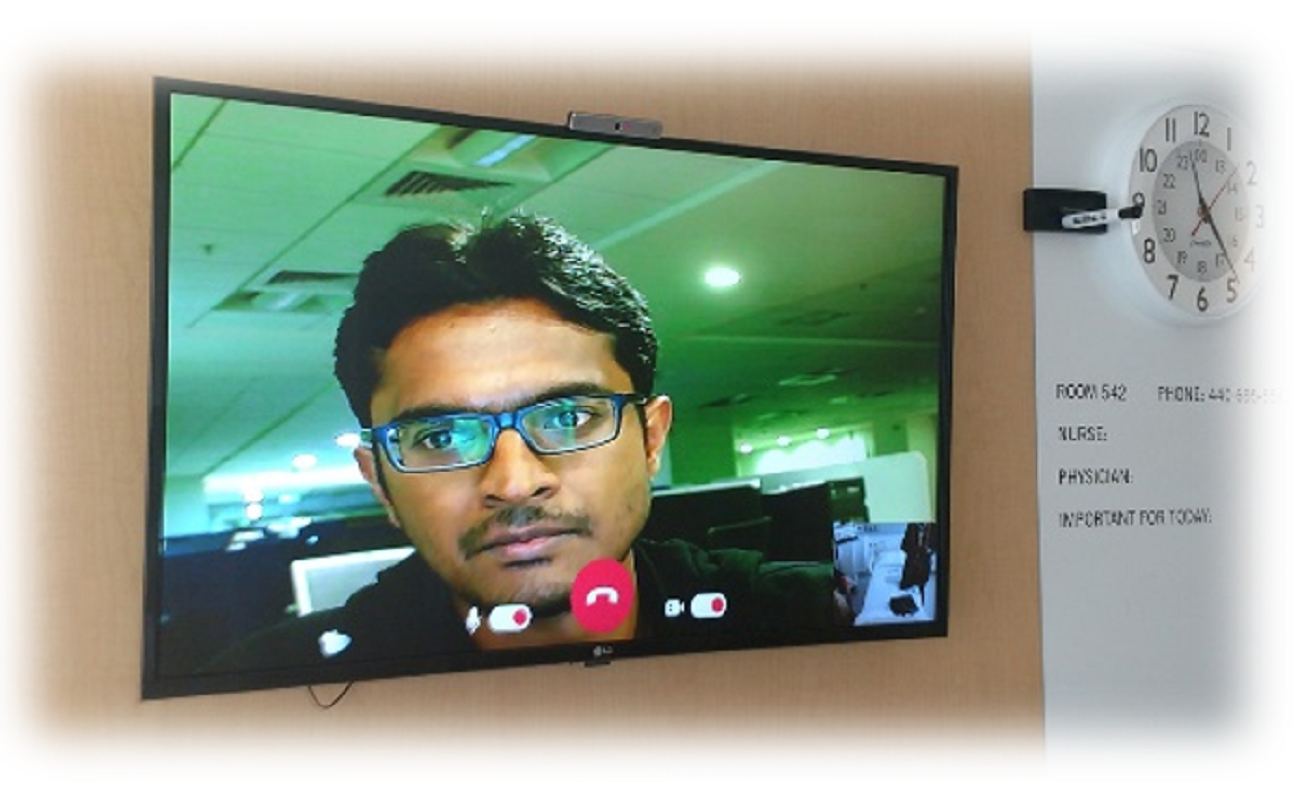 Language/Translation Services
For patients needing language interpretation, Aceso Virtual Care can provide patients with on-demand access to video translation services. Patients can request their preferred language and customize their personal preferences.
Family and Friends
Aceso Virtual Care enables personal videoconferencing with family, friends and loved ones through the use of the hospital-room television. Just saying "hello " or "I love you " are now possible via video communication. Remote members of the patients support team and loved ones can now participate in shared decision making and be informed of the patient's status and what the next steps are in the care process.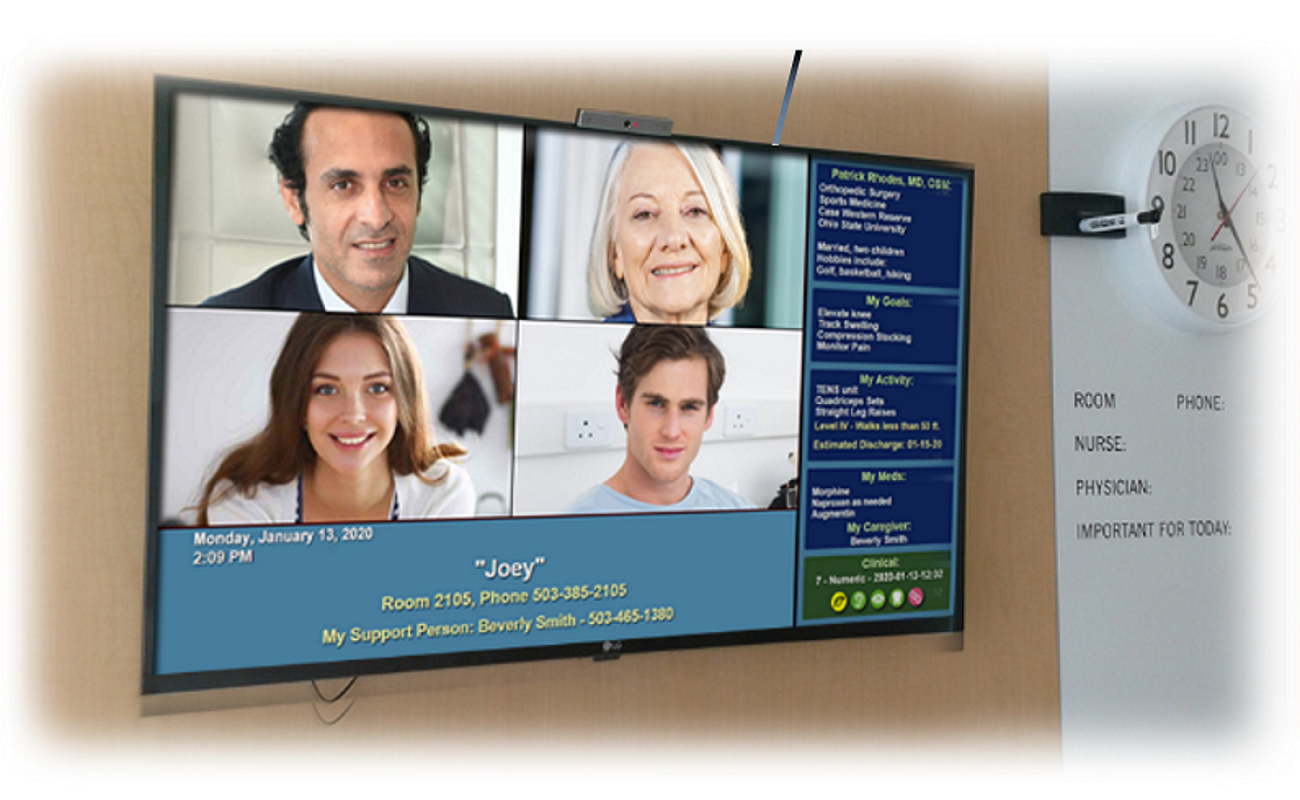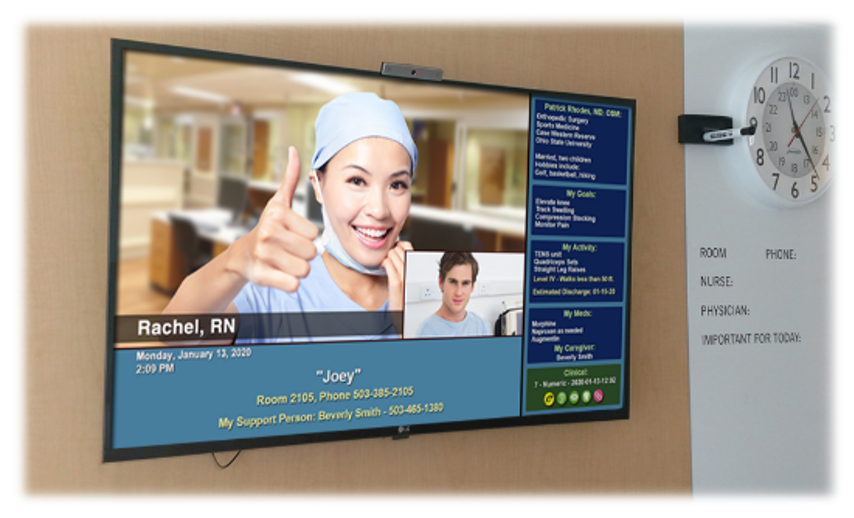 Monitoring, eICU and Surveillance
In the unfortunate circumstance of a pandemic or widespread infectious disease, Aceso Virtual Care provides care team members with the ability to continue monitoring patients without having to enter the room. As a result, clinical staff can surveil and respond to immediate changes in a patient's medical status in a moment's notice.
Navigation
Our digital platform integrates with a variety of input devices to provide clients with multiple patient navigational choices.
• Aceso can integrate with many adaptive devices for patients who cannot use a pillow speaker or TV remote.
• Our platform's intelligent user experience adapts the user interface to a variety of patient populations in order to meet the needs and preferences of each patient.
• Aceso's digital solutions are designed to be utilized by people of all abilities.