Aceso Digital Communication Platform
Creating a Digital Ecosystem Across your Network
The modern healthcare system includes more than just the hospital. Fostering a continuum of care for your patients involves a multitude of outpatient facilities. Aceso offers digital strategies for communication and messaging to guests and patients, providing them with a genuine touchpoint experience from the parking lot to the examination room. Whether it is wayfinding, information kiosks or digital signage, our digital solutions can reach the needs of your organization by informing, distracting, and connecting patients as we strive for a better standard of health.
Addiction Treatment Centers

Dental Offices

Dialysis Centers

Health & Wellness Centers

Hospitals & Medical Centers

Infusion Centers

Medical Clinics & Urgent Care
Medical Office Buildings

Mental Health Facilities

Pain Centers

Physical & Sports Therapy

Physician Offices

Sleep Centers

Surgical Centers

…and many others!
Our digital solutions can be tailored to fit the particular needs of your facility. Help make wait times feel shorter by engaging and distracting patients by displaying the information they want and need to see. Regardless of volume or demographic, our solutions will enhance the way in which your patients value the care you offer.
Digital Communication Platform Advantages:
Cloud-based Content Management System (CMS) allows for central management and scheduling

Simplified, yet robust client toolset that is available from any Web Browser

Superior database-driven media targeting, scheduling and network operations capabilities

A platform ready and open for client customization and converging media demands
Technology that eliminates the need to purchase and maintain costly enterprise servers

Maintain total control of publishing content, anytime, anywhere or allow Aceso to manage for a true turn-key platform

A comprehensive, end-to-end, business service solution

Rock-solid reliability and security, built for true scale
Digital Messaging Use Cases (including but not limited to):
Digital Communication Benefits:

• Enhances the patient, visitor and caregiver experience
• Promote health system/hospital as a leading-edge healthcare facility using innovative technology
• Unifies the corporate culture, citing achievements, events, news and branding
• Aligns healthcare system's mission with outlying administrative leadership
• Amplifies awareness of the successes/milestones of the institution
• Enhances the environment by displaying aesthetically pleasing imagery
• Provides wayfinding information, directing and guiding patients and visitors to their destinations
What our Client-Partners are Saying:
"…When the screens were turned on, the messaging was powerful and immediate, exceeding our expectations. I'd say half of those present were dabbing tears from their eyes…it was that impactful."
"…Successful rehabilitation outcomes are best demonstrated through motion and independence. Our digital campaigns allow us to share our patients' success in order to
motivate others."
"…The web-based protocol enables users to create, manage and measure highly-targeted digital signage networks with minimal strain on time, resources or budgets. Complicated tasks are simplified; allowing users to efficiently orchestrate almost any content experience for a variety of audiences."

Client Testimony – Fairchild Medical Center (Yreka, CA)
Fairchild Medical Center, a 25-bed critical access hospital in Yreka, is realizing the benefit of Aceso's fully scalable digital signage platform. Beginning with just a single display, FMC has now deployed Aceso's platform across three facilities to digitize the outdated method of paper-based messaging. Patients, families and guests are now more engaged than ever before with relevant and timely informational content from the time they enter the facility to the time they leave.
"At Fairchild Medical Center we use digital signage in our lobbies as a way to communicate important information as well as marketing and branding messaging to our patients. FMC TV allows us an opportunity to keep patients up-to-date on changes in our facilities and also provides an entertaining distraction for our patients as they wait in our lobbies."
– Elizabeth Langford, Executive Director, Fairchild Medical Center Foundation
Automated Directories
Updating manual or paper-based directories can be time-consuming and costly. We live in a digital era where information can change every second. With Aceso's UpCast™ Automated Directories, administrators can update physician, department and building directories in real-time using a simple and intuitive content management tool. It is time to eliminate those outdated directory listings.
Common Areas & Syndicated Content
The common area is a patient's first impression to their healthcare experience. Actually, they are valuable spaces in which a healthcare system can educate and provide additional information about services. Traditional waiting areas like hallways, corridors and waiting rooms subject patients, visitors and staff to boredom and a lack of productivity, while also exposing them to potential illnesses from the outdated paper reading materials available to them.
Digital waiting room displays enable you to leverage home-made content available within your organization. Aceso's strategic partnerships can also provide your community with sleek-looking digital content that serves as an outlet through which all members can engage with their environment and improve their overall healthcare experience.
Dining & Cafeterias
Food is the key to any person's heart, but it is also critical to the health and happiness of anyone who walks through the halls of your facility! Your food service staff works diligently to ensure that patients, staff and visitors have access to many nutritious and tasty dining options. This means that food menus and items frequently change. It is time to say goodbye to the costly process of printing fliers and paper menus and say hello to their digital form, which can be changed at any time from any location.
Donor Recognition
Where would we be without the generous support of donors? They are the philanthropic pillars of our society and deserve to be recognized with their names in lights! Static donor recognition walls are being replaced by digital walls that can be easily updated with elegant digital imagery and videos at any time, from anywhere.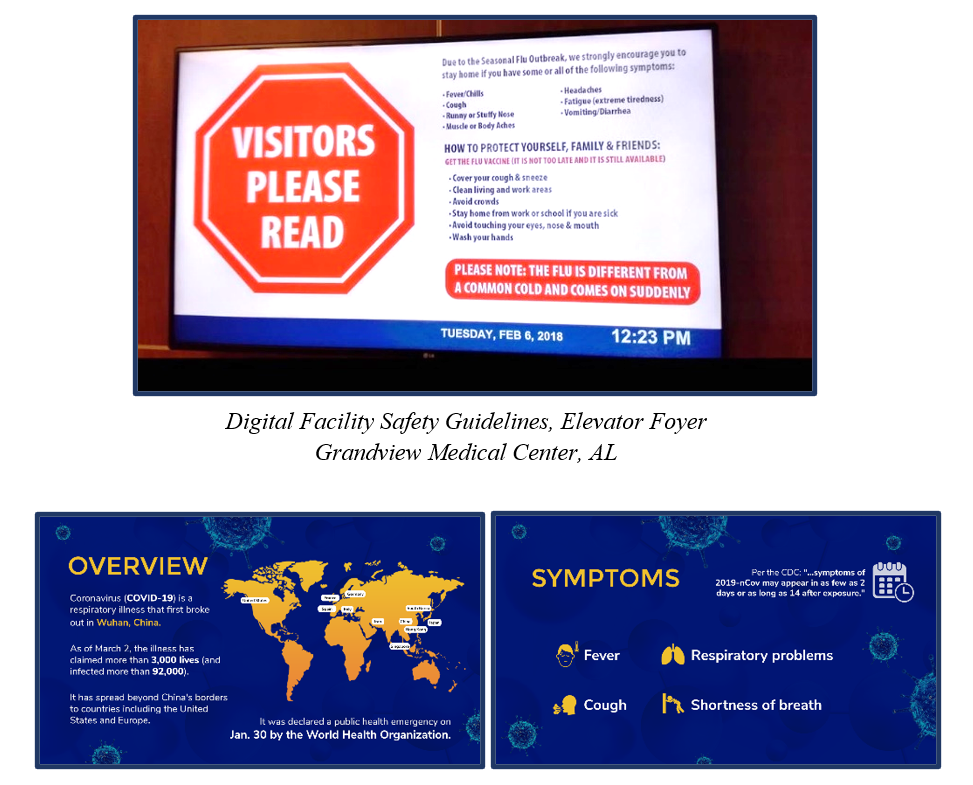 Emergency Alerts
In times of crisis it is critical that each person within your facility is up-to-date and informed on the necessary guidelines and precautions to keep the community safe. Digitizing alerts and emergency protocols is the most effective method to educate your community in an environment that is subject to rapid change.
UpCast Digital Signage provides your administrators with the necessary tools and templates to create and upload home-made content, or leverage free pre-made content from sources like the CDC, WHO and other health organizations.
Events & Promotions
Activity planning for residents is hard work, but advertising it to them should not be! Why settle for hard-to-read ink on paper when residents can look at bright, bold and brilliant displays? It is time to leave paper-based communication of events in the past and replace it with digital screens that can be updated in real-time from a single location.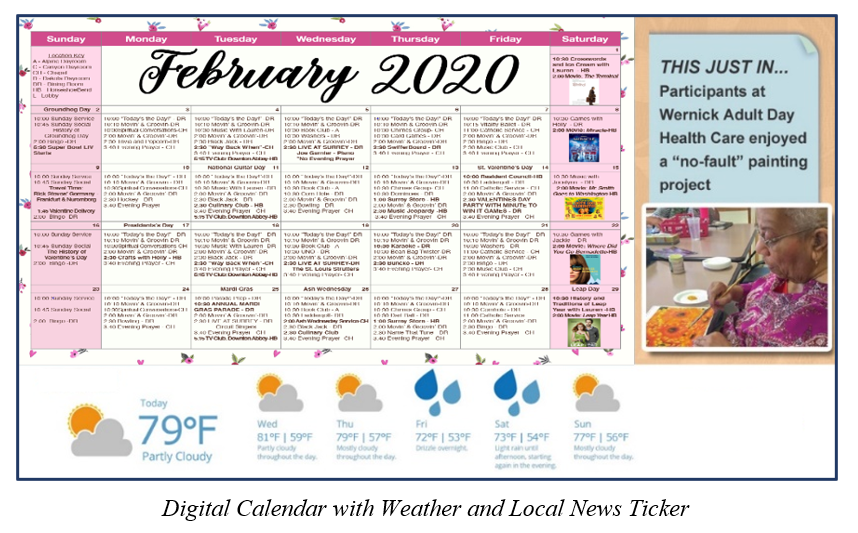 Health & Wellness
Gone are the days of paper-based messaging! Digitizing your health and wellness content is the leading-edge solution toward fostering a culture of wellness for your organization. It is time to start pushing your wellness programs through digital screens that are all-inclusive and designed in a way that connects with patients, guests and staff for a frictionless healthcare experience.
Interactive Kiosks
Patients and visitors need a one-stop shop for resources and information as they move throughout your organization. Interactive kiosks are a innovative, effective and engaging solution for consolidating department directories, wayfinding and other resources in a single location.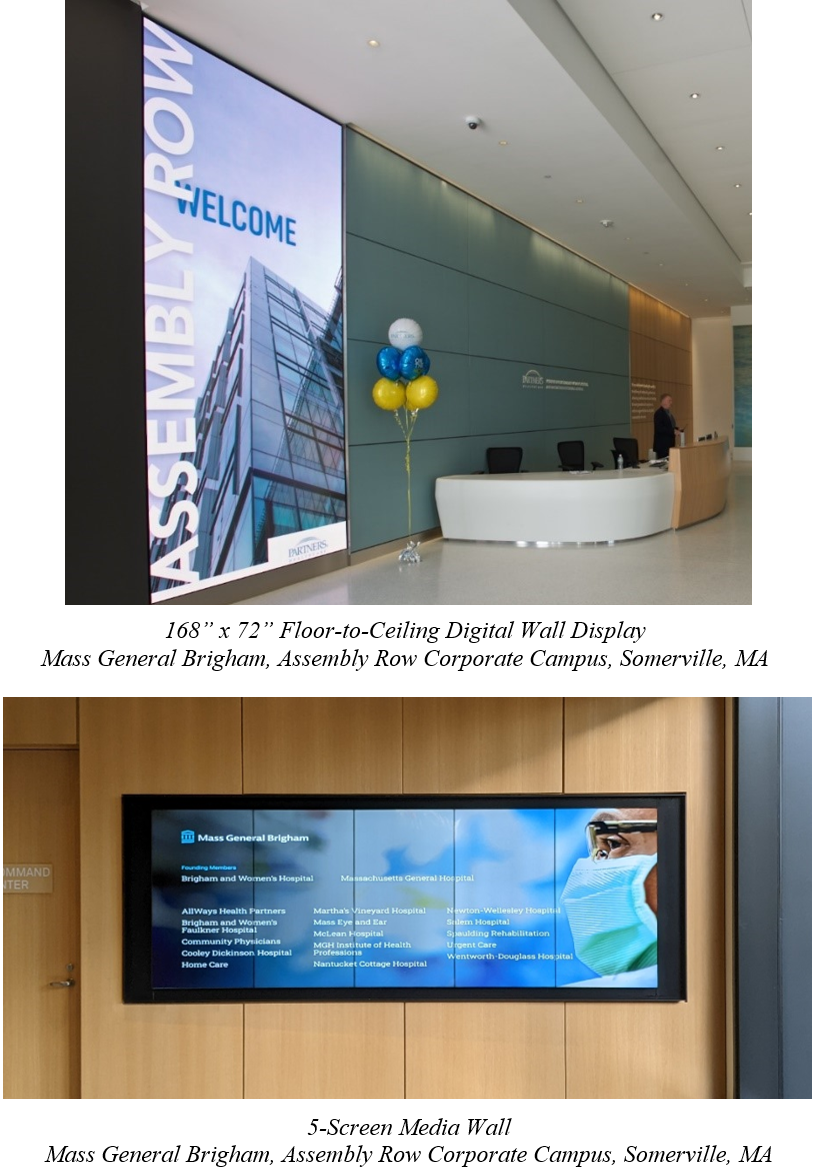 Media Walls
Each wall of your facility is a canvas for information, education and entertainment. Aceso's grandiose and spectacular digital media walls energize ordinary spaces and turn them into vibrant environments. From facility announcements to aesthetic moving landscapes, digital media walls can be updated in real-time from a single location.
Media walls can accommodate portrait or landscape design styles and support single or multi-screen configurations to provide seamless, elegant and innovative digital experiences across the organization.
Wayfinding
Navigating the halls of your facility should be the least of patients' worries. From static mapping to directional signage, digital screens can bring life to any wall and help patients, visitors and staff get to their destinations efficiently. Digital wayfinding can be managed from any location at any time, which saves valuable resource time for your staff and enables them to make quick and efficient changes to signage when necessary without having to print paper materials.
UpCast Hospital Television Network
An example of what your health system can do to broadcast your own hospital television channel network.
Daily messaging, wayfinding, event listings, promotions and success stories are only the tip of the iceberg that furthers the communication of Aceso Digital Signage. Our very own Digital Signage experts and design specialists are ready to help you build your dream digital landscape, no matter the use case.