Aceso UpCare™
Interactive Patient Care (IPC) Solution
Have your patients ever felt they were not informed about their care, not sure who is taking care of them, or simply do not know what is happening during their hospital stay? Patients and loved ones want to feel informed, connected and distracted during their hospital stay while maintaining the comforts of home. UpCare delivers specific content and relevant information to the patient at the bedside while also distracting them during their stay. Aceso's technology provides health care organizations with a digital solution that integrates with existing administrative and electronic health record systems, providing patients and loved ones with the information they want and need to know.
UpCare Digital Experiences (including but not limited to):
UpCare is an essential component to any organization's Patient Room of the Future™ strategy. It comes standard with a variety of patient-centric features designed to help lessen anxiety while providing access to services through an interactive digital experience. UpCare can be customized with a variety of modules that flex to meet the specific needs of your organization. From patient education to room control, our team of clinical experts will work with you to decide which modules provide the most value for your patients and care teams.
With UpCare, Patients Are…
What our Client-Partners are Saying:
"…love the fact that I can have the same or better experience in the hospital as I do at home. The system on the smart TV is easy to use and provides a sense of comfort and security; I have something I can use for distraction and entertainment without having to ask someone to get it for me."
"…the patients love that the education is watched at their convenience and not when the system forces them to. It's not pushed on them; the nurse can bookmark and have a conversation about it."
"…there are no security concerns with this system because there aren't any additional systems nurses have to log into. This is HUGE for administrators who are always concerned with security breaches."

Client Testimony – Fairchild Medical Center (Yreka, CA)
Fairchild Medical Center, a small 25-bed critical access hospital in Yreka, has brought the future of patient engagement to their inpatient rooms. Mike Madden, Assistant Administrator at FMC, shares their story:
"Aceso provides a scalable solution that Fairchild built upon working closely with Aceso over several years. First came messaging our patients in our waiting rooms with positive stories from our patients and communicating important updates. Fairchild started with just one digital sign in the hospital main lobby, then built upon that for each specialty clinic. Messaging for the digital signs can be customized for the waiting room audience. Fairchild's next step is to make a video wall in the hospital's main lobby with messages from Auxiliary, Foundation, as well as a larger format TV.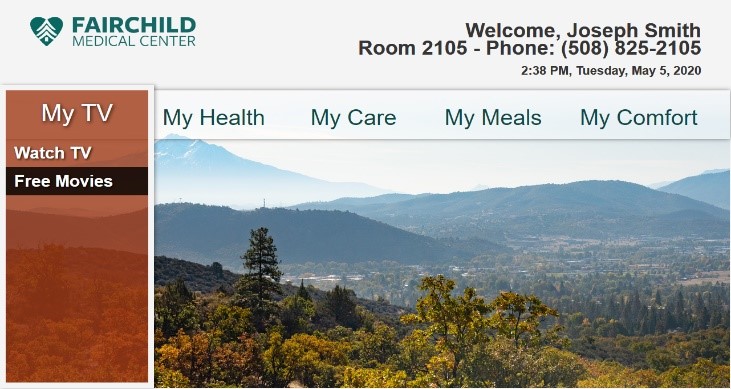 Fairchild next provided inpatients a hotel-style menu, personalized for each patient, and new entertainment choices. For many years cable service was the patients' only choice when hospitalized. Today, patients have satellite TV and on-demand movies using a hotel-styled menu that is easy to navigate. The sleep enhancement module has also been very popular with patients.
Patient education content from a third party provided an important value to providers and nurses. Fairchild's next steps will be to integrate education orders from an EMR, queuing a list of patient education to watch and documenting education completed in a patient's chart."
– Mike Madden, Assistant Administrator, Fairchild Medical Center