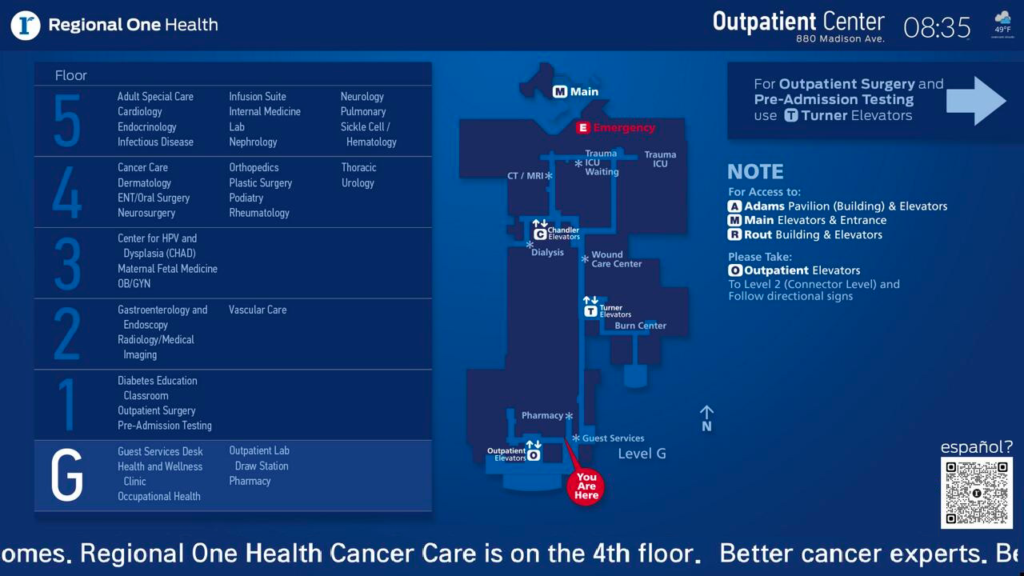 Memphis, Tennessee November 20, 2023 – Regional One Health, in partnership with Aceso Interactive, is leveraging the Aceso "Pane of Glass" platform to enhance and modernize wayfinding and communication across the Regional One Outpatient Center.
Customer service and innovation start at the front door. By leveraging the Aceso "Pane of Glass", Regional One has the flexibility to create convenient and practical wayfinding guidance for patients and their families. In addition to wayfinding and digital directories, Regional One can create personalized messaging by building, floor, unit, room and device. The result is a digital communication platform that is managed remotely via the Cloud-based content management system. The platform can accommodate all forms of content, including video, scrolling messaging, real-time alerts, and video. Multiple languages are available, and QR codes can deliver the messaging to your phone.
Aceso Interactive (www.aceso.com) is a healthcare software development firm that is dedicated to improving the patient experience, and delivering solutions that make the care process better for patients, families and the care teams that serve them.
Regional One Health (www.regionalonehealth.org) provides world-renowned Centers of Excellence in trauma, burn, neonatal intensive care, and high-risk pregnancy alongside exceptional services of choice including oncology, primary and specialist care, rehabilitation therapy, pharmacy and imaging.